SPIRITS
Riverside, Illinois
EST. 2011
PRAIRIE SUNSHINE™
PRAIRIE SUNSHINE™
Prairie Sunshine™ is our signature wildflower honey spirit. Similar to a rum, but distilled from mead, a wine made from honey. It has a nose reminiscent of the goldenrod honey it is made from.
THE HISTORY
Mead, a wine made from honey, was one of the first alcoholic beverages made in Europe. But mead was never traditionally distilled to make a spirit. Honey was always too scarce and valuable source of sugar to be used for spirits. So there is no traditional name for spirits made from honey. Our owner, Derrick, made mead throughout college, so when he started distilling, one of the first things he tried was to distill mead. The result was a rum-like spirit that had a nose and a finish derived from the honey used to make the mead.
THE PROCESS
The honey is fermented to make honey wine, or mead, and and the mead is then distilled. The new-make honey spirit is handmade with a single distillation in our copper pot still using plates in the column. After a brief rest, it is either diluted to drinking strength and bottled, or some of it is aged in small used charred oak barrels, previously used for aging our Bourbon Spring® whiskey. Our Prairie Sunshine™ "Barrel Reserve" is made like a light rum, blending some of the honey spirit that has been aged in barrels for more than a year with some of the original unaged spirit.
THE ENJOYMENT
Prairie Sunshine™ is an artisan spirit that can be enjoyed on its own or in your favorite cocktail. We enjoy it neat or on ice.
THE RECIPES
Honey-jito
American Brown Bear
Daquiri
Prairie Sunrise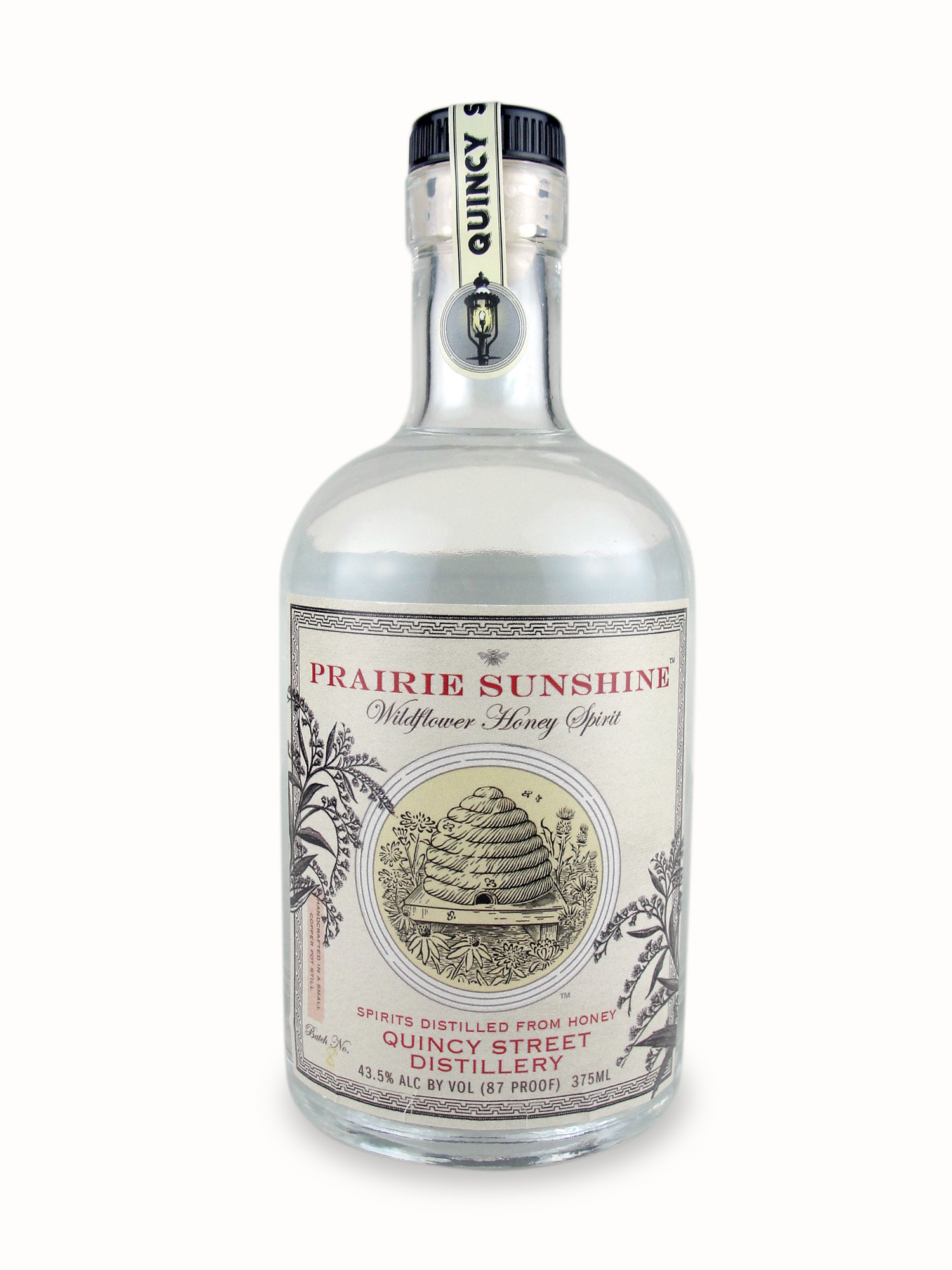 THE HONEY
The wildflower honey for Prairie Sunshine™ is from northern Illinois, near Marengo. We have use various kinds of honey, but most batches are made from goldenrod honey. Goldenrod honey is darker and richer in flavor and aroma than most table honey. While less desirable as a table honey by most, it is wonderful for making mead and honey spirit.
THE LEGEND
Handmade just a short walk away from …
THE FINE PRINT
Distilled and bottled by Quincy Street Distillery in Riverside IL 60546. 375ml at 43.5% alcohol by volume (87 proof), wildflower honey spirit, unaged or "Barrel Reserve".